Who Stepped on His Blue Suede Shoes?
Posted on January 16, 2011
with 0 comments
I was in a certain mega-bookstore chain this morning (doesn't matter which chain…there are only 2 left in the world and they're both the same) when I heard a song playing on the in-store sound system that convinced me that the end of Western civilization is indeed at hand.
It was one of those cut-and-paste, let's-take-a-very-famous-oldie-hit-and-put-fresh-"beatz"-under-the-original-vocal-track-of-the-rock/jazz/soul-icon-and-call-it-Art (and make lotsa $$$) sorta things. Kinda like what Kenny G did to Louis Armstrong and what some other low-lifes did to Billie Holiday…but only worse.
This was Elvis Presley's original vocal track for his version of "Blue Suede Shoes" put to, yes, a crazy new beat but also to some real cheese-smokin', hot harmonica licks and –I kid you not- scratching. You know, like you used to hear on Run-DMC records 25 years ago?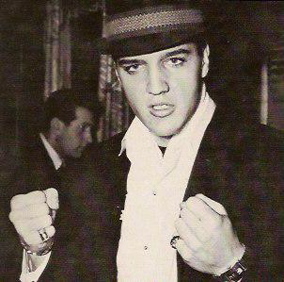 I only just heard this abomination today but I realize, especially when I consider the scratch-scratch overdubs, that it's quite possible that this thing was released years -if not decades- ago and that I'd simply managed, through the grace of a kind and merciful God in heaven, to escape the mind-numbing pointlessness of this particular exercise in cultural destruction through bad taste and lack of originality.
There's something deeply ironic about the fact that a dead singer's stern warning not to step on his blue suede shoes somehow inspires the guilty party to go one step further and to actually s#!t on his blue suede shoes…and for all to hear! The only bright spot here is that Carl Perkins, the guy who wrote "Blue Suede Shoes," is spared the indignity of having his own fine version sullied.
At this point I should say two things:
1) I realize that a simple Google search will reveal exactly who committed this atrocity and when, but I'm deliberately delaying that discovery so as to allow myself the freedom to express without prejudice what I feel is the appropriate amount of derision.
It's possible that I'd discover any number of mitigating factors which could make me less angry and convince me not to write this post. I might find that the artist, producer or artist/producer behind this has met with a tragic and untimely death and I would then see that he was merely a flawed human being like myself doing his best to get along in the world. I might also find that it's part of a benefit album and that sales go to help stop something horrific like breast cancer, starvation, torture, genocide or American Idol. Or I might find that it's a famous and well-loved artist/producer in which case I'd be asking for nasty comments.
But I doubt it. There's just something very self-serving and desperate about taking the Mona Lisa, adding your own little brush strokes to it and then presenting it as yours. That's a fair comparison, I think. (Wow. Come to think of it, that's actually been done…a lot!)
2) I realize that I'm breaking the unwritten rule that an artist, especially an "unknown" artist, should never publicly criticize another artist's work lest he should appear either snobbish, envious, judgmental or bitter...not to mention the bad karma that certainly comes to the artist who does anything other than pretend that he thinks all other artists "rock." It's that thing about how people who live in glass houses (and I do) shouldn't throw stones.
My answer is that this unwritten rule doesn't apply when the artist in question makes no attempt at originality and goes so far as to use someone else's legendary voice as a Trojan horse to get people to listen to his own "voice"…which in this case appears to be the above-mentioned cheese-smokin' harmonica licks. Also, I can indeed be snobbish, envious, judgmental or bitter at times and I might as well cop to it.
Why is any of this important? Because at a time when it seems like everything's been done and when Western Civilization is evidently out of ideas, stuff like this is just salt on the wounds. It pains me to think that some kids out there will come to think that this is Elvis Presley singing "Blue Suede Shoes" and they won't know (or care about) the difference.
Before leaving the store I decided I'd go over to the music section and, with a quizzical look on my face and my finger pointed up toward the source of the sound, ask the salesperson something like, "Who's making Elvis turn in his grave?" or "Who is this…so I know who to blame"? But when I got there I saw that it was a young gal…maybe 30 at the most and I just didn't want to be that jerk after all. So I walked out of the store in defeat.
I'll find the answer to the question of who stepped on his blue suede shoes and I'll add it below as an update. Hopefully it won't make me regret posting this!
UPDATE: Wow, I didn't see this coming. The culprit is Cirque du Soleil and the track is part of some Elvis tribute extravaganza called Viva Elvis that's currently playing at a resort hotel in Vegas. And there are actually 11 tracks more of this rehash on the soundtrack album! Out of new ideas indeed.